The hiring industry has become more candidate-driven than before. Even with different experience levels, talented professionals from industries are in high demand, especially after the pandemic. This also means that there are comparatively diverse options of employers to choose from. The employer-candidate relationship has tremendously changed over the past few years. Like said before, the authority to recruit has shifted from employers to candidates. Call it what you may, but there is hardly any doubt that recruitment currently is experience-driven. This is where a positive candidate experience comes into the picture.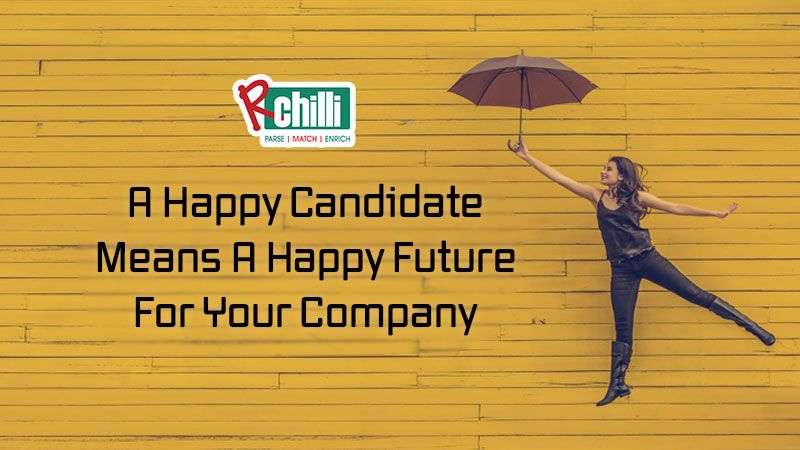 But What is A Positive Candidate Experience?
It's tough to believe that a candidate's experience can impact your company's brand. This is why it's essential first to understand what a positive candidate experience is. In layman's words, a positive candidate experience is an impression a company leaves on the candidates through filling the job application, interview, selection, and the hiring process. As easy as the idea may seem, there are numerous elements, including your website's career page, the job application page, or the job descriptions in the job boards, that together play an essential role in crafting a positive candidate experience. Not to forget, the interview process and intimating the candidate about his job status, whether selected or not. As an entrepreneur, one needs to bear in mind that nearly hundreds of candidates will apply for one open position. Even though you'll be picking out the best of the lot, your company brand will leave a permanent first impression on the minds of the ones rejected. Good or bad, that's up to you to work upon. Don't you think it's essential for you and your team to realize how the candidate's experience can affect your brand's bottom line?
Positive Candidate Experience: The Key Elements That Define It
What, according to you, is the candidate's primary interaction with your company? Well, it's either via the social channels, the job advertisements you post, or through the career page of your company's website. Your candidate gets to save a lot of time and effort if the career page is easy to find. This shall be the first step towards a positive candidate experience.
The next step to the funnel towards a positive candidate experience, apart from finding the job, is how easy it is to fill the application form. Concise and clear job descriptions help you discover potential candidates faster and easier.
Remember, just making the application process easy alone won't help. Candidates and specifically the in-demand professionals want good communication throughout. One of the most frustrating aspects of the interview procedure the candidates feel is the lack of empathy from the employer's end. So, even if they've been passed over in the interview, a simple email would show that you valued their time, and they leave with a positive note about your company's ethics.
You must keep the shortlisted candidates updated about their interview status to keep them engaged all through the hiring. A call by the recruiter or a message would suffice. Whichever way you choose, the bottom line should be to keep them well-informed.
This can be considered the most critical part of the funnel, an opportunity to judge whether the candidate is a good fit for your company or not, and vice-versa. A well-defined interview process avoids confusion for the candidates and adds value to the hiring timeline. You must tell the interview process to the candidates well in advance- whether it'll be an in-person interview or a video call. It's all about speed here.
Consider it as the last touchpoint in a candidate's experience. Whatever promises you committed during the interview, it's time to deliver those. Taking care of the paperwork, introducing the team, induction, and an opportunity to socialize will make the candidate feel welcomed. Wondering how it matters? Here are a few statistics that could be the eye-opener.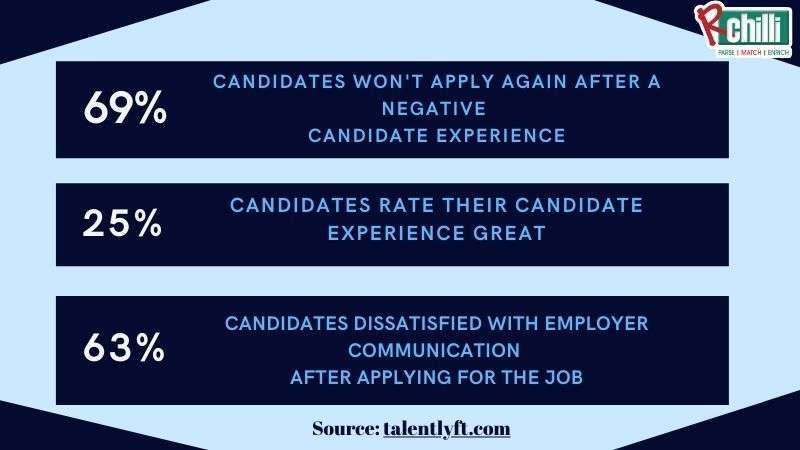 How Does a Positive Candidate Experience Help You Hire Better?
Why do you think people keep hopping from one job to another? Maybe they want to bounce around or haven't found their calling yet. But the actual reason if you ask us is the company culture. A sense of satisfaction and contentment is essential for an employee to stay around for years and be productive. This is only possible if he/she gets that culture where he/she is encouraged to take risks, his/her skills are valued, and he/she feels necessary. Despite spending years in a company, many candidates feel lost because the company work culture isn't streamlined. As a matter of fact, building a positive candidate experience isn't a day's job. It starts from the very beginning. If most of you are still wondering what difference it can make to your business, here's a sneak-peak.
It Helps Build a Positive Brand Image
Who says rejecting a candidate should be harsh? Instead, how your company treats the rejected candidate can make a difference in enhancing the positive candidate experience. If not treated well, candidates might not ever apply to any of your company's posts ever again. Don't forget, word of mouth has a lot of power. Think about the number of fellow candidates they'll further share their disappointing story with, some of whom can be your potential clients and candidates. So, a kind message or call notifying them about their status would keep the window open for them to apply in the future with enhanced skills.
It Speaks of Your Company's Bottom Line
As mentioned above, hiring candidates should be taken as seriously as getting new customers, who you want to treat nicely. Plus, you never know who can be their further contacts. As a brand representative, you should always follow a good candidate-customer approach. Compassion goes a long way, especially if it helps enhance your brand value, especially in recent competitive days.
A Better Application Completion Rate
One way to see whether your candidate engagement approach is headed the right way is by noticing the application completion rate. The reason your competitor is taking a lead in the industry backed by a great team of professionals is his far better reach to them. Maybe, the number of candidates who complete the application form and submit the resumes is far better than yours. A one-click application process can enhance your reach to the crème de la crème of the industry. Another way of looking at it is that a positive candidate experience not only makes your candidate's experience brilliant and strengthens your brand image, it also reduces the candidate dropping-off rate.
Higher Employee Referrals
Think about it this way- if you have to purchase a new car, would you straightway visit the showroom and buy it, or will you ask for referrals from those who are already using it? Similarly, a trained, skilled, and knowledgeable professional would first speak to one of your employees for a better review. Now, if your employees are happy, they'll always recommend your name, which increases your chances of bagging the talent. If they're happy, they'll speak of your company's candidate-friendly recruitment and onboarding process. Opinions matter and they become your company's label.
Right at the beginning! Your journey towards a positive candidate experience starts with how easily a candidate applies on your company website's career page. Integrating the parser at the backend of your systems would mean that
First, the candidates won't have to fill in the details already mentioned in their CVs. Applying for the job post would be a click away.
You save time scrutinizing each and every CV. The parser automatically fetches 140+ data fields like skills, experience, qualification, education, and more and offers the database of candidates. You become the earl birds to get the worms.
Naturally, your prospective candidates feel valued and drop in for the interview first. A fast hiring process is always valued by the candidates seeking a better job opportunity.
Conclusion Defining a clear employee value proposition across your career page will give the candidate an idea about your company's ethics. A crisp and clear application process will further bolster the overall experience of the candidates and your company's performance in the industry. RChilli can help you in the first step of the way. For the rest of the positive candidate experience journey, you have to carve your own path. Remember, a candidate experience shouldn't stop the moment a candidate becomes your company's employee. Contact us to know how we can help you make the best first impression on your prospective candidates.
Source: How RChilli helps in achieving a positive candidate experience?